Well, it's been a few weeks now that I have been thinking of a new blog dedicated to The Blue Attic.
As you may know, I have been designing cross stitched patterns since March 2012
and I now want to be known as a designer which is a very difficult challenge !!!!
Of course, Poppy M Les Ptits Pois won't disappear because
I love stitching famous designers' patterns and paying tribute to all of them.
So, you will have 2 blogs to visit instead of a single one !!! LOL !!!
Isn't it wonderful ???
So, here is my new address:
http://theblueattic.canalblog.com/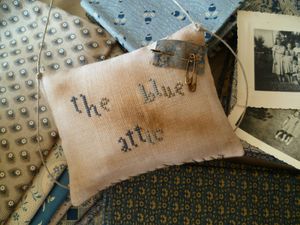 All my patterns can be seen on The Blue Attic and
if you have any questions, do not hesitate to ask me !!!