14 mars 2013
I made them using an old grainsack bought on a French flea market.
I stained them with CORINA's wonderful walnut ink.
You can buy it in her fabulous ETSY Shop
******
SOLD, thanks !!!
08 mars 2013
for my strawberries, quilt, hearts, doilies !!!
And you what are your favorite shades at the moment ???
*****
My Berries are AVAILABLE
Have a great day my friends !
03 mars 2013
I really enjoyed creating this sweet little pattern ...
******
You can see more pics in my ETSY shop
and also an other interpretaion of my pattern
by my sweetest and precious friend Elena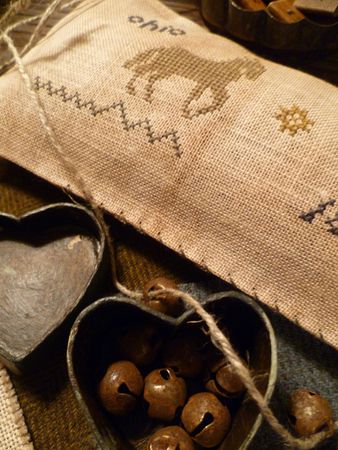 Have a great day ! Happy stitching !
01 mars 2013
Easter Twin Bunnies ... first of the bunch
*****
This is a sneak peek of my new design
Come and visit me HERE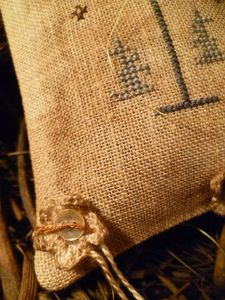 Thanks for stopping by !
*****
28 février 2013
Just a little peak
Visit me HERE
if you want to see the whole pattern !!!
Thanks for visting !!!
Have a great day
26 février 2013
Isn't it cute ?
Fill this bag with delicious chocolate ...

and offer it for Easter !!!
*****
3 bags are available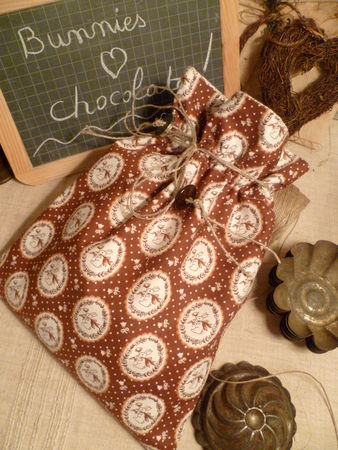 Have a great day !!!
25 février 2013
I really enjoyed sewing those adorable strawberries.
I used ERRIN's gorgeous wool
Do not hesitate to visit her shop HERE
ERRIN is a wonderful seller ! Great communication and kindness !!!
THANKS a bunch ERRIN ! I'll be back soon !!!
*****
SOLD, thanks !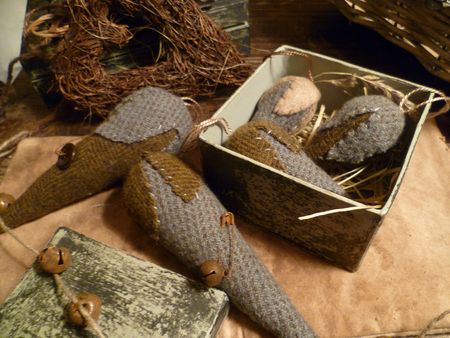 Thanks for stopping by ...
*****
21 février 2013
a special doll called Mary ...
*****
Mary is now living a peaceful life in Montine's Bunny Hop Cottage
(thanks Montine ! You gave me inspiration for this doll and her sweet "accessories")
*****
(Pattern adapted from a Chesnut Junction pattern /
the pillow was adapted from a chart by Leisure Arts Design
-I changed the name and the bottom of the original chart -
and the dressed clothespin is an idea from Pamela)
16 février 2013
I am in LoVe with those sweet little boxes
and painting them makes me feel ... happy !!! lol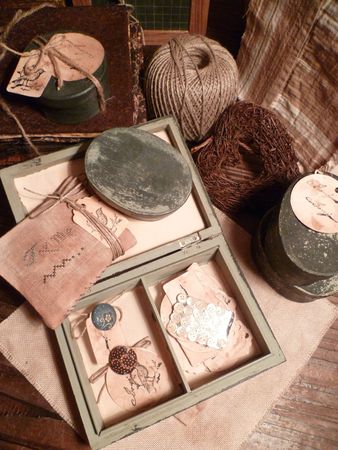 *****
See all my e-patterns on my ETSY Shop

and
VISIT my sweet friend ELENA who has just released
a WONDERFUL and GORGEOUS interpretation of my pattern
"Primitive Gatherings"
(thanksssssssssssss a bunch my sweet Elena !)
14 février 2013
antique sewing notions keeps growing !
I cannot resist each time I visit JANE's wonderful shop
called BLACKSHEEPYARNS
I can't help it I must yield to temptation since her goodies are ... IRRESISTIBLE !!!
Look at all those beautiful buttons and tiny boxes !!!
ENJOY visiting Jane's shop
*****
Have a great day my dear friends !