22 mars 2013
Hi folks, do you remember ...
one year ago, I started my new "career" as a designer under the name
and the theme I had decided to develop was (and STILL IS !!!) Laura INGALLS ...
Since then, I have designed more than 30 patterns
and some of them are dedicated to the INGALLS family.
To celebrate THE BLUE ATTIC first birthday,
I have created this sweet and simple sampler.
Thanks to all of you, friends, customers and stitchers ...
May this "adventure" last as long as possible ...
Thanks for stopping by ...
ALL MY E-PATTERNS CAN BE BOUGHT via
14 mars 2013
I made them using an old grainsack bought on a French flea market.
I stained them with CORINA's wonderful walnut ink.
You can buy it in her fabulous ETSY Shop
******
SOLD, thanks !!!
08 mars 2013
for my strawberries, quilt, hearts, doilies !!!
And you what are your favorite shades at the moment ???
*****
My Berries are AVAILABLE
Have a great day my friends !
03 mars 2013
I really enjoyed creating this sweet little pattern ...
******
You can see more pics in my ETSY shop
and also an other interpretaion of my pattern
by my sweetest and precious friend Elena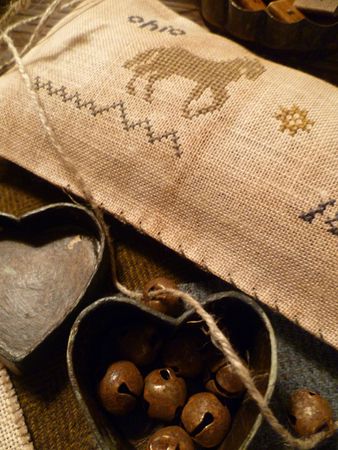 Have a great day ! Happy stitching !
01 mars 2013
Easter Twin Bunnies ... first of the bunch
*****
This is a sneak peek of my new design
Come and visit me HERE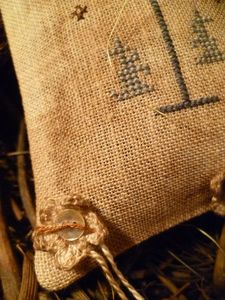 Thanks for stopping by !
*****
28 février 2013
Just a little peak
Visit me HERE
if you want to see the whole pattern !!!
Thanks for visting !!!
Have a great day
26 février 2013
Isn't it cute ?
Fill this bag with delicious chocolate ...

and offer it for Easter !!!
*****
3 bags are available
Have a great day !!!
25 février 2013
I really enjoyed sewing those adorable strawberries.
I used ERRIN's gorgeous wool
Do not hesitate to visit her shop HERE
ERRIN is a wonderful seller ! Great communication and kindness !!!
THANKS a bunch ERRIN ! I'll be back soon !!!
*****
SOLD, thanks !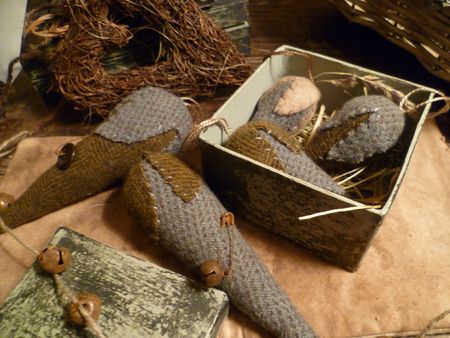 Thanks for stopping by ...
*****
21 février 2013
a special doll called Mary ...
*****
Mary is now living a peaceful life in Montine's Bunny Hop Cottage
(thanks Montine ! You gave me inspiration for this doll and her sweet "accessories")
*****
(Pattern adapted from a Chesnut Junction pattern /
the pillow was adapted from a chart by Leisure Arts Design
-I changed the name and the bottom of the original chart -
and the dressed clothespin is an idea from Pamela)
16 février 2013
I am in LoVe with those sweet little boxes
and painting them makes me feel ... happy !!! lol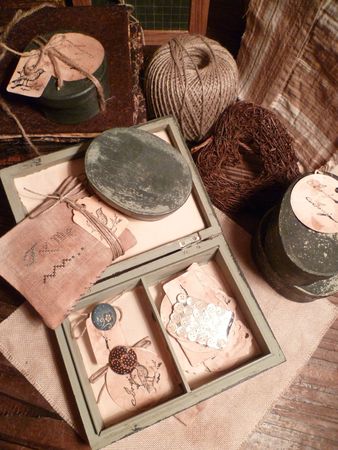 *****
See all my e-patterns on my ETSY Shop

and
VISIT my sweet friend ELENA who has just released
a WONDERFUL and GORGEOUS interpretation of my pattern
"Primitive Gatherings"
(thanksssssssssssss a bunch my sweet Elena !)